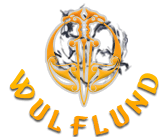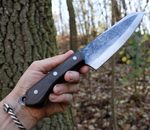 Bushcraft
Bushcraft is the use and practice of skills, acquiring and developing knowledge and understanding, in order to survive and thrive in a natural environment. Bushcraft skills therefore provide for the basic physiological necessities for human life: food (through foraging, tracking, hunting, trapping, fishing), water sourcing and purification, shelter-building, and firecraft.
A strong, massive Celtic long knife, which is based on Celtic knives. We adapted it with its parameters so that it can be used for bushcraft. It is a reliable helper in the forest made of one piece of spring steel. He is not a little knife, he is a real friend during your wanderings through the…
Hand Forged Early Medieval SEAX. This kind of weapon/tool was used during the Viking and Anglo-Saxon Age as a weapon and as an everyday tool. We manufactured this knife sharp for use in the outdoors. Material: 54SiCr6 high carbon spring steel, wood Overall length: 34 cm Blade width: 55 cm Blade…
Cleaver for Bushcraft TORBEN (Thunder Bear) inspired by the Old Norse name "þórr" - thunder and "bjǫrn" - bear. It is a very high quality and full-tang knife with a material thickness of 6 mm, which gives it a very nice weight of 440 g. Part of the blade is double-edged at the tip and the knife…
The LEATHER BOTTLE. Volume cca 0.5 L. This product is made by the same technology as it always used to be in the past - inner surface is covered by wax. Because of European strict hygienic laws and rules we sell this item as a decoration.
Historical fire steel with a bronze lion. The fire steel is fully functional and made by Arma Epona forge.
Dimensions: 3.5 x 8.2 cm
Material: steel and bronze - lost wax casting
Leave your modern bags at home and involve this bag in your outfit. Size: 25 x 47 cm. Material: leather.
Hand forged and functional firesteel.
Bushcraft Knife.
Blade Length – 125mm
Handle Length – 145mm
Overall Length – 270mm
Stainless Steel Blade 2.5mm Thickness
Impregnated black Oak Handle with Leather Cord
Leather Sheath
Muurikka Outdoor Smoker for Campfire Compact smoker for gas and charcoal grills, as well as open fire Comes with wire legs for use on an open fire Sprinkle smoking chips to the bottom of the smoker Comes with a fat plate Grating size 14 x 38 cm Made of stainless steel Weight 2.1 kg Dimensions 16…
The decently-sized skimmer is well suited for stirring the serving paella, for example.
Size: 38 cm
Muurikka, Finland
The campfire cooking pot with a thin base heats up quickly on an open fire. Thanks to the shaped handle, the pot is easy to hand above the fire. The lightweight campfire cooking pot can be easily transported to the cottage, camping, etc. Stainless steel. Volume: 2.3 L Weight: 0.65 kg Top diameter…
Versatile water/coffee pot for outdoor use. Shaped handle, easy to hang above the fire. A light campfire kettle can be easily transported to the cottage, camping, etc. Stainless steel. Can also be used with the side cooker of the gas grill. Volume: 1.5 L Weight: 0.54 kg Base diameter 16 cm Height:…
Muurikka Campfire Kettle 0.8 L Campfire kettle, high-quality stainless steel Shaped handle for hanging Dimensions designed to be easy to carry The kettle can be used for making coffee or tea at a campfire Weight 340 g Height 12 cm with the lid (handle turned down), 15.5 cm with the hanging handle…
High-quality carbon steel pan with a long folding handle. Wooden handle. Easy to carry on a trip, to the summer cottage or camping site in the handy protective bag. With good care, the surface of the pan will gain a natural non-stick surface, decreasing the need for care and improving the non-stick…
Muurikka Leisku Pan in a protective bag Classic Muurikka Leisku Campfire Pan With Leisku, you can cook all camping delicacies on an open fire Thanks to the folding handle, the pan takes little space Weight 1.1 kg, pan diameter 26 cm Material hot-rolled steel, wooden handle Comes with a protective…
Muurikka PRO carbon steel pan 30 cm For grill, open fire and kitchen Suitable for all hob types in the kitchen, also for oven Thanks to the base structure of the pan, it will not warp when heating up The carbon steel pan does not have a coating that would wear off A long-lived pan with proper use…
Muurikka Pan 38 cm with legs Genuine and original Muurikka Pan Suitable for open fire, electric grill, gas burner or other types of grills Comes with 3 detachable legs In terms of size, fits the grill plates of Tundra Grills perfectly Very long-lived pan with care Comes with use and care…
With the Muurikka Outdoor Pocket Stove, you can prepare food or beverages outdoors. The stove is easy and fast to assemble, and it takes little space. The Muurikka Outdoor Pocket Stove is easy to carry in its small protective bag. Muurikka campfire coffee pots, camping frying pans and campfire…
Cleaver for Bushcraft SIRIUS. It is a very high quality and full-tang knife with a material thickness of 6 mm, which gives it a very nice weight of 420 g. Cherry wood was used as the material for the handle. The knife is suitable for many outdoor activities. In addition to cutting, its main…
Cleaver for Bushcraft JORKKI inspired by the Finnish name, which in translation means farmer. It is a very high quality and full-tang knife with a material thickness of 6 mm, which gives it a very nice weight of 440 g. Cherry wood was used as the material for the handle. The knife is suitable for…