KOLOVRAT, Silver Slavic Colovrat Pendant, Ag 925
A unique piece of silver jewellery indeed! It is probably the first one in the world that combines the symbol of Kolovrat with jewellery making methods of granulation and filigree that were very popular in early Slavic Empires, such as the Moravia Magna Empire.
The Kolowrat (Kolovrat, Collowrath) symbol is in the Modern Age considered a panslavic pagan symbol of the Sun. The symbol can be found in architecture, on embroidery and pottery from the Early Slavic period in most Slavic countries. Its massive popularity today is the matter of the last century. It is perhaps proof of continuous close connections among Slavic nations and their knowledge of the common history. The pendant is proudly worn by Slavs and their descendants around the world. Slawa.
Material: silver 925
Diameter: 3.3 cm
Weight: approx. 5.1 g
Can be fitted with a gemstone - garnet (left) or ijolite (right)
Hidden bale system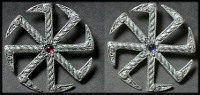 $33.05
Catalogue number: JWA13
In stock