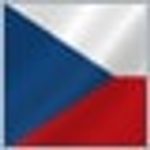 Set of TWO SHOT GLASSES crafted from so-called forest glass. Each piece is slightly different, the set is hand made in a family glassworks. Forest glass is late medieval glass produced in northwestern and central Europe between cca 1000–1700 CE. It used to be made in forested areas and it …
Stylish Leather Belt Bag with Vendel Motives and Bone Buckle. High quality of craftsmanship. Bone Strap End Replica of a 9th-10th century original excavated in the region of the former Danelaw in England. material leather, bone inside space  17×14×5 cm total height 17.5 cm hook for belt 8 cm…
Handpainted Shamanic Frame Drum handmade of high quality materials, which lend our drums a great sound. Material: spruce wood and deer skin Diameter: 40 cm Height: 8 cm You can order a textile case and a beater as well
Modern Design Silver MJÖLLNIR Pendant. Mjöllnir, or Thor's Hammer, meaning grinder or crusher, is God Thor's magical weapon. The hammer is unbreakable, it always hits the target and then comes back to the owner's hand. The hammer flies through the sky in the form of a lightning. To be able to…
Collach CELTIC BOAR Silver PENDANT. Wild boar is, besides birds of prey, the most frequently depicted animal in Celtic art. This indicates that it had a special significance in society. The available archaeological and numismatic evidence also strongly suggests that boar hunts may have played an…
FENRIR VIKING WOLF T-shirt with the quote "Where wolf's ears are, wolf's teeth are near" from the Volsunga Saga, c.19. Material 100% cotton T-shirt by Gildan, USA Detailed design Quality print Printed in the Czech Republic
Druid Sickle Silver Pendant.
Material: sterling silver
Size: 1.2 x 3.3 cm
PATRIOT - Bohemia, T-Shirt.
Detailed design
Quality print
Manufactured by Naav fashion brand
Printed in the Czech Republic
Bronze medieval buckle. Lost wax casting method.
Dimensions: 26 x 41 mm
For 11 mm wide straps
This roman phallic pendant is crafted on the basis of an artefact discovered in Rome (2nd-3rd century). These pendants were widespread in the whole Roman Empire with the largest collection found in the Roman settlement Camulodunum (now in England). This is a fairly universal amulet protecting the…
Hand made leather bag with vendel ornaments.
Dimensions: 17 x 19 cm x 4 cm.
Viking crow - a drinking horn. The carved ornaments are inspired by archeological findings from Gnezdovo, Russia. The horn is polished and treated with a food safe lacquer. Material: cow horn Volume: approx. 0.4 l You can also order a forged stand for this horn.
Vendel warrior - drinking horn. Carved ornaments are inspired by findings from Valsgärde grave, Sweden. The inside surface has been treated with a special colourless food-safe lacquer. Volume: 0.3 l
Viking leather shoes with rubber soles to reduce the risk of slipping. Antler buttons. Made in Czech Republic.
Hand Forged Medieval Bearded Axe featuring:  material high carbon spring steel blade, wooden shaft, leather BLUNT/SHARP blade with round edge case hardened for re-enactment practice size of head 16 x 19 cm shaft approx. 55 cm long excellent product of Arma Epona smithy (Czech Republic) you can buy…
Reproduction of a Celtic sword with an anthropoid hilt, discovered in 1902 at North Grimston, Ryedale district, North Yorkshire, UK. The sword was found in the grave of a Celtic warrior, along with a shield, a second sword, and a joint of pork (Hull and East Riding Museum). Decorative sword…
Celtic SWORD or DAGGER Reproduction with Human Body Shaped Bronze Hilt. The original artefact was discovered in 1902 at North Grimston, North Yorkshire, UK, in the grave of a Celtic warrior, along with a shield, a second sword, and a joint of pork. Material: bronze, 54SiCr6 steel Overall length:…
Leather Viking High Shoes with antler buttons manufactured by a local well-known Czech shoemaker of historical shoes, the shoes are popular at historical markets in France, Germany, Austria, Holland. upper - 2.5-3.5 mm (depending on the shoe size) thick vegetable tanned cowhide hand dyed insole …
Hand Forged Celtic Knife with Decorated Leather Sheath inspired by Celtic artefacts from European Iron Age settlements - oppida. Hand forged in Bohemia (land of Boii tribes) by Wulfllund. material: spring steel 54SiCr6, high quality cowhide overall length: 30 cm blade: 16 cm blade thickness: 4…
Hand forged statue of a really disgusting spider :) Width: 20 cm. Material: steel, black anti-rust finish. Hand forged in the Czech Republic.