Valkyrie, Viking Pendant, 14K gold
Valkyrie, Viking Pendant, 14K gold
VALKYRIE GOLD Viking Pendant. According to the Norse mythology Valkyrie is a female figure who in battle decides who may live and who may die. Then she leads the chosen dead warriors to Valhalla, the afterlife Hall of the Slain.
Material 14K gold
Height 3.5 cm
Weight approx. 5.30 g
The price may vary according to the actual weight of the item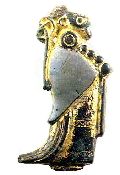 Photo of the original viking archaeological artefact.
Related products
$28.31
Catalogue number: AGP25
5-7 weeks