Valkyrie, Viking Pendant, 14K gold
VALKYRIE GOLD Viking Pendant. According to the Norse mythology Valkyrie is a female figure who in battle decides who may live and who may die. Then she leads the chosen dead warriors to Valhalla, the afterlife Hall of the Slain.
Material 14K gold
Height 3.5 cm
Weight approx. 5.30 g
The price may vary according to the actual weight of the item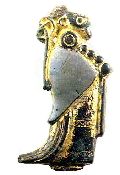 Photo of the original viking archaeological artefact.
We will start working on the commission once we receive full payment beforehand. Once shipped, we don't accept any returns if the customer refuses/neglects to take over the parcel, or unless a serious reason is provided. We recommend to find out the customs fees and the possibility of gold import into your country.