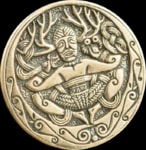 Celtic knot, very popular with our customers.
Material white metal
Height 4 cm
Acorn Bronze Pendant.
Material bronze
Size 0.8 x 2.1 cm
Forged Celtic Triquetra.
Material: steel
Anti-rust coating
Height: 4.1 cm
Cernunn (Kernunn, Cernunnos), Lord of the Animals and the Guardian of the doorway between the natural kingdom and the Celtic Otherworld. This motive is inspired by the Gundestrup Cauldron which was retrieved from a bog in Jutland, Denmark. Material tin alloy (pewter) Size 4.5 x 6 cm
Bronze pendant of a Celtic deer. Hidden bale.
Material bronze
Size 3.2 x 3.7 cm
A medallion depicting the horned Celtic God Cernunnos. The Gundestrup Cauldron from Denmark served as an inspiration for the design. Cernunnos is often portrayed with the antlers of a stag seated cross-legged, surrounded by animals and holding or wearing torcs. He was revered as a protector…
Crow pendant with a Newgrange spiral. The crow is associated with mysteries of life and magic. This bird is considered to be a spiritual guide. It supports the development of sight, transformation, and connection with life's magic. Newgrange (Sí an Bhrú, Ireland) is over 5.000 years old prehistoric…
A common Irish design. Three faces, three different characters. Cats are seen as spiritual guardians as well as omens - especially black cats. Some people consider cats as the sign of the Devil, but others deeply treasure these independent animals. In ancient Egypt, they were worshipped as gods (e…
Scottish thistle as a national symbol of Alba (Scotland). Second only to tartan, nothing quite says 'Scotland' like this humble, prickly weed. A legend has it a sleeping party of Scotish warriors were saved from ambush by an invading Norse army when one of the enemies trod on the spiky …
Celtic pendant Replica in La Téne culture style, the original was found in Germany (Ist century). Was he a God? Hero? Man or woman? Trophy? The answer is up to your imagination... Material bronze Size 1.7 x 3.2 cm
Collach CELTIC BOAR Bronze Pendant. Wild boar is, besides birds of prey, the most frequently depicted animal in Celtic art. This indicates that it had a special significance in society. The available archaeological and numismatic evidence also strongly suggests that boar hunts may have…
Mac Tíre Celtic Wolf Bronze pendant, inspired by the art of the Book of Kells. Mac Tíre is the Irish expression for this animal, in Ireland extinct, but still surviving in the Celtic mythology. Material bronze Size 2 x 4 cm
Embossed Leather Keychain.
Material: dyed cowhide
Height: 8 cm
Iron Age Bearded Man Celtic Bronze Pendant inspired by Early La Tene bronze "mask" fibula from Mikulovice, Eastern Bohemia, Czech Rep., a rare and unique European artefact dated back to 500-400 BCE. Motif of a head was very frequent and popular among the ancient Celts who kept their enemies heads…
The Green Man is most commonly considered to be the God of Nature. He symbolizes new beginnings, rebirth and never ending cycle. Material bronze Size 1.7 x 3.9 cm Original design by Katien.
Iron Age Pendant (the 1st century BCE) with glass beads. Exceptional piece of art. The original was probably found somewhere on continental Europe (Gallia?), possibly part of horsegear. Our reproduction as a pendant features the triskele (thre realms) and feminine lunar symbols. Glass beads are…
Oak leaf pendant with beautiful organic shapes. Oak is considered to be a holy tree in many cultures. The Slavic people dedicated it to their god Perun. Material: Zinc Size: 2 x 3.6 cm Bale: 4 x 6 mm
Celtic Horse - round bronze amulet.
Material: bronze
Size: 3 cm
Collach Bracelet with Pictish Boars. The design is inspired by the rock carvings in Scotland (Dunadd) created by the Picts sometime during the Late Iron Age and Early Medieval periods. Boar was revered, especially by the Celts, for its strength, perseverance and courage. Material: tin alloy
Celtic Fox Pendant.
Material: zinc alloy
Size: 3.4 x 3.9 cm