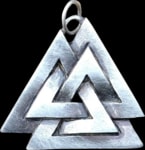 CZECH LION - large silver pendant which symbolizes the Czech statehood. Symbol of the double-tailed lion is the old heradlic symbol of Bohemia.  The facial expression of this lion is not a mute national symbol, it overflows with pride, fighting spirit and the proper portion of anger.  Today the…
Fenrir the Viking Wolf PENDANT as a symbol of strength, endurance and freedom. The design is inspired by the Borre Viking art style (named after the locality in Norway, 9th-10th century). The fate of this mythological wolf is to fight with Odin during Ragnarök. One of our most distinguished…
Replica of an old Slavic jewel - Lunitsa (also Lunula or Luneta). The original was found near the city of Stare Mesto, Uherske Hradiste, the Czech Republic, the 9th century, Great Moravian Empire (first state of western Slavs). Symbol of Lunitsa (or Lunula - little moon) is a female symbol. Such…
Unique silver piece that depicts the symbol of Kolovrat, and shows old jeweller's methods of granulation and filigree that were very popular during the early Slavic Empires (such as Moravia Magna Empire). The Kolovrat (Kolovrat, Collowrath) symbol is in modern ages considered a panslavic pagan…
A unique piece of silver jewellery indeed! It is probably the first one in the world that combines the symbol of Kolovrat with jewellery making methods of granulation and filigree that were very popular in early Slavic Empires, such as the Moravia Magna Empire. The Kolowrat (Kolovrat, Collowrath)…
A replica of an old Slavic jewel - Lunitsa (also Lunula or Luneta). Casted granulation and filigree. The original was found near the town of Staré Město (Old Town), the Great Moravian Empire (first state of Western Slavs), today the Czech Rep, 9th century. The symbol of Lunitsa (or Lunula - little…
SLAVIC SVARGA (the Sun), a symbol of the god Svarog - the God of the Heavenly Light and Fire. Material: sterling silver  Weight: approx. 4.5 g Diameter: approx. 3 cm plus 4 x 7 mm eyelet
Cernunn (Kernunn, Cernunnos), God of the Forest, guardian and the guide to the other world. Cernunn is commonly pictured with stag antlers and sitting in the lotus position. Material tin alloy (pewter) Size 4.5 x 6 cm
Celtic Fox Pendant.
Material: zinc alloy
Size: 3.4 x 3.9 cm
Aquila Roman Eagle Pendant, a symbol of ancient Rome and an important part of standards of the Roman legions. Its loss was a shame for the whole legion for many generations. Roman soldier holding an Aquila was called Aquilifer. Bail on the reverse. Material: zinc Size: 2.8 x 3.1 cm Bale size: 4 x…
CELTIC BOAR Pendant. Wild boar is, besides birds of prey, the most frequently depicted animal in Celtic art. This indicates that it had a special significance in society. The available archaeological and numismatic evidence also strongly suggests that boar hunts may have played an important role in…
VELES, Slavic Pendant. Veles (also known as Volos) is a major Slavic God of Earth, Water and the Underworld. He is mostly associated with cattle, musicians, wealth, magic and trickery. Veles is believed to be related to the Indo-European deity of Mitra, as well as the Norse deity Loki. …
Green Man - pendant. Hidden bale. Model for this jewel was hand made by wax. Is our civilization still able to see these Spirits of Nature? Green Man is as old as humankind, he didn't dissapear in the past and now he is strong again. Designed by Kati. Material tin alloy Size 2.5 x 4 cm …
Ursus Bear Head Bronze PENDANT.
Material: bronze
Size: 2.7 x 2.8 cm
Weight: 7 g
Fenrir Viking Wolf Leather and Pewter Bracelet inspired by the Borre Viking art style (named after the locality in Norway, 9th-10th century). Wolf symbolizes strength, endurance and freedom. Fenrir is the eldest son of the God Loki and the Giantess Angrboda. The Gods have bound monstrous Fenrir…
Lime (Linden) Leaves as a bronze pendant. The tree has become an official panslavic symbol at the Panslavic gathering in Prague in 1848.   Material: bronze Size: 3.6 x 5 cm Bail on the reverse
Thor's Hammer - a bronze replica of a hammer from Romersdal, Denmark, which is exhibited at the Danish National Museum in Copenhagen. Thor's Hammer, or Mjöllnir, is God Thor's magical weapon. The hammer is unbreakable, it always hits the target and then comes back to the owner's hand. The hammer…
Stylized CELTIC SHIELD AMULET.
Tin alloy covered with antimony, patinated
Size 3 cm
One of our many Celtic knots design. 
Material: alloy of tin, covered with a thin layer of antimony, patinated
Size: 2,7 cm
Tree of life double sided pendant. The Tree of Life and trees in general carry a deep sacred meaning in many world religions and mythologies. Human beings, observing the growth and death of trees, and the annual death and revival of their blooms and foliage, have often seen them as powerful…