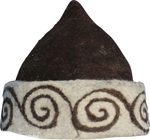 Thick and warm cap is made of 100% cotton by technology of hand spinning wool at ecological farm in the Czech Republic. Wool is from live sheep.
Renaissance head dress for men. Required measurement: circumference of head.
Made of a hi-quality leather. This product is custom-made so we need to know your head measurements (perimeter of your head).
This product is custome-made. Don't forged to write us your head size.
Why you should be an ordinary sailor if you can be a pirate instead?
High quality leather
Head circumference necessary, please leave us a note.