DEFEND EUROPE - Polish Hussars 1683, Zipper
Defend Europe - Polish Hussars, Battle of Vienna.
Battle of Vienna 11-12. September 1683 was one of the key events of the wars between the Habsburgs and the Ottoman Empire and heralded the end of its expansion into Central Europe. In the 20th century, Nazis and Communists tried to destroy our freedom and Europe had to fight. In the 21st century, general well-being and security were disrupted by an immense and unexpected evil that no one expected. Glory to all who help Ukraine and its people.
100% cotton
Quality printing
Our own production - brand Naav
Printing in the Czech Republic
Related products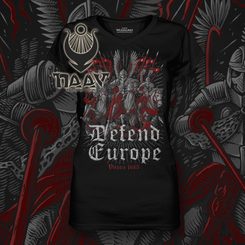 $26.66
Catalogue number: NAV145
1-2 weeks