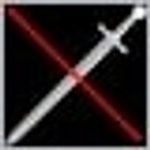 MACE with LION HEAD.
material wood, untreated
length 47 cm
Mother, Maiden & Crone Incense Burner.
Material resin
Height 18 cm
Weight 1.1 kg
3 shot glasses in the shape of dragon eggs that hatched into Drogon, Viserion and Rhaegal, Game of Thrones. Material resin, removable stainless steel insert Colours red, green, yellow Total weight 1.3 kg Officially licensed Game of Thrones merchandise
Mirror box by Anne Stokes.
Material MDF, mirror
Size 10 cm
Weight 200 g
Imported from the UK
Forged One-handed Sword with Sharp Blade for Collectors. The shape is based on the 14th and 15th century swords. Sharp blade - not for historical combat. Superior performance and quality by Arma Epona Smithy, Praque, Czech Rep. Material high carbon steel 54SiCr6 Total length 101 cm Blade length…
Battle ready replica of a Scottish basket hilted sword. We made this sword on special request from a Scottish customer according to an original sword from 1560 CE. Made by Wulflund. Material 54SiCr6 spring steel  Hardness approx. 50 - 52 HRC Overall length 94 cm Blade length 79 cm Width…
Unique Sharp Gladiator Arm for collector's. material: blade - high carbon steel, arm - brass overall size 97 cm blade length approx. 60 cm blade SHARP manufactured in the Czech Republic
Roman Gladius Sword with Scabbard. This sword is supplied with a blunt edge but the end point is sharp - not intended for combat. Overall length 69 cm length of blade: 47 cm width of blade at the guard: 4 cm width of guard 6 cm point of balance approxs 8 cm below the guard weight: 0,74 kg
Blunt FALCATA with Scabbard and Knife for Collectors or Stage Play. Falcata was a weapon of the pre-Roman Hispania and the Romans learned to fear this weapon during their conquest of Hispania. This reproduction features falcata with wooden grip and brass pommel in the shape of horse head, wooden…
GLADIUS Type Mainz SWORD with Scabbard with sharp point for decoration, stage play or as part of a costume. blade material steel overall length approx. 75 cm
Total length of the sword 105 cm
Length of the blade 78 cm
Riveted pommel