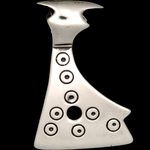 YAROVIT Slavic Pendant. YAROVIT (JAROVIT, GUEROVIT, YARILO) is God of War, the Sun and Fertility. As a warrior, Jarovit is portrayed as a powerful knight with seven heads and swords, the protector of the weak and powerless, but he is also God of Fertility, Spring, Nature and Flourishing Vegetation.…
BEAR KOLOVRAT Slavic Pendant. Bear has always been a symbol of tremendous strength and great endurance, just one look at this creature fills us with admiration and fear at the same time. Therefore, the Slavs believed that warrior who wears bearskin gains strength, endurance and power of this animal…
TRISKELE Slavic Pendant. TRISKEL, or Triglav, is one of the common symbols of mankind, representing a triple supreme deity or any three realms or parts of a whole. Among the Slavs, this divine trinity is made up of Svarog, the Supreme God, Creator and Builder; Perun, God of Fire, Lightning and…
Once, there was nothing. The only thing that existed in eternal darkness was the Golden Egg. Inside it was Rod, the Creator, giver of life to everything in the exsistence, sleeping. The first thing Rod created was Love, the Goddess Lada, and then, having broken the walls of his prison with the…
Kolovrat, Sun wheel of Svarog - a symbol of the Sun, Life, and the constant circulation of nature and the Universe. It can be found in nearly all ancient religions, especially Slavic. Our ancestors used to wear Kolovrat around their necks, sew on their clothing and war flags and carve on…
Kolovrat, Sun wheel of Svarog - a symbol of the Sun, Life, and the constant circulation of nature and the Universe. It can be found in nearly all ancient mythology, including Slavic. Our ancestors used to wear Kolovrat around their necks, sewn on their clothing and war flags and carved on their…
Svarga, symbol of Svarog
Size: 3.5 x 4.2 cm. Material: tin. Manufactured in Србија (Serbia).
Symbol of LUNICA (Lunitsa or Lunula - cresent moon) is the pagan symbol of moon and femininity.It symbolizes fertility, happy life and good luck. It connects your female energy with lunar cycle. The cult of the moon was associated with fertility cult. Fertility here refers to a women as Mother…
Mokos is celebrated as the Goddess of fertility, Mother of Gods. Together with Svarog, she is responsible for the creation of the human race. She is the protector of women and household chores, she helps women in labor and protects their children. Many customs celebrate Mokosh as the protector of…
JAV and NAV - Double Kolovrat (double spinning Sun wheel) - Reflects the eternal connection of Jav - the physical world we live in, and Nav - the spiritual world in which our glorious ancestors live. Constant turning and interaction of these two worlds demonstrates their strong spiritual…
The WOLF is a totem animal of the old Slavs, their mythical ancestor. It played a significant role in the Slavic mythology and folklore. The wolf was venerated and feared. For the Slavic people wolves are tied up to protection rituals and ancestor worship, being a way to connect the solid…
Luna Bronze Pendant. Luna, Lunitsa, or Lunula, is a beautiful feminine symbol, which Slavic and Viking women used to adorn themselves with. Some believe it helps to secure fertility, good fortune and a happy life. Product of Wulflund. Material: bronze Size: 3 x 3.6 cm
Slavic pendant - "HANDS OF GOD" - This symbol represents the Hands of God that reach out to everything and everyone,  including our whole world, our galaxy and all universes. It contains  all elements of life: Svarog - the heavenly smith, the creator of mankind (bottom right field), Mother Earth …
Polish eagle - pewter pendant. The eagle is the ruler of the skies. He is the symbol of freedom and victory. He helps you discover the route to your destiny.  Size: 2.1 x 3.5 cm.
Great Wolf double sided medallion. Wolf is a totem animal of the old Slavs, their mythical ancestor. It played a significant role in the Slavic mythology and folklore. Wolf was both venerated and feared. For the Slavic people, wolves were a part of protection rituals and ancestor worship, being a…
SLAVIC House Spirit DOMOVOI Keychain. DOMOVOI (or Domowik) is, in Slavic folklore, a house spirit and every house is said to have one. DOMOVOI is a guardian of the house and he sometimes helps with household or field work. He lives under a thresholds or under the stove. It is important to…
Tin pendant of mighty Slavic God - Perun.  Perun is a God of thunder and lightning and is the highest God of the Slavic pantheon.  This pendant is inspired by a real find of Perun and from illustrations of Bohemian artist Mikolas Ales. Perun has a hood - symbol of spirituality, moustache -…
Copy of a wooden Slavic idol of the four-headed Slavic God Svantovit found in Jomsborg - Wollin (Poland).  Svantovit is a Slavic God of war, fertility and abundance.  He has four heads to protect you from all the sides.  Body of this pendant resembles the bark of the oak tree - the sacred tree…
A DOMOVOI (or Domowik) is a house spirit in Slavic folklore.  In Slavic mythology every house is said to have its own house dwarf.  The DOMOVOI is a guardian of the house and he sometimes helps with household or field work.  Made by Wulflund. We should warn you, that Domovoi may get angry and…
The Kolovrat (Kolovrat, Collowrath) symbol is in modern ages considered as a panslavic pagan symbol of the Sun. Old Slavic faith connects people with Slavic blood all over the World, and this symbol is one of these connections. Size circa 3.3 cm in a diameter. Material: tin …