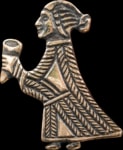 Viking Ship Bronze Pendant. The original artefact, a brooch, was found in a gravesite at Lillevang, Bornholm, Denmark, it comes from cca year 1 000 of the New Age. This pendant is a stylized Viking ship, Drakkar, the best known of the spectacular longships, typical for the legendary Vikings.  …
Unique Thor's Hammer inspired by geological formations in Iceland, Ireland and the Czech Republic. Thor's Hammer, or Mjöllnir, is God Thor's magical weapon. The hammer is unbreakable, it always hits the target and then comes back to the owner's hand. The hammer flies through the sky in the…
Massive Bear Pendant for real bogatyrs who are happy to wear massive bronze jewels. The bear is decorated with typical early medieval ornaments which are known e.g. from Slavic and Viking bone carving on tools and knives. Material: bronze Height: 3 cm
Roman Hand PENDANT inspired by an artefact found in Germania Superior (imperial province of the Roman Empire). Similar hand-holding-a-small-ball pendants were also discovered in Celtic settlements and they are still worn today, for example in Italy, to protect the wearer against evil forces. …
SLAVIC SVARGA (the Sun), symbol of the God Svarog - the God of Sun and Fire.
Material: bronze
Size: 2.8 cm
The Great Moravian period inspired pendant. Lada is considered the Slavic Goddess of harmony, merriment, youth, love and beauty. Material: bronze and a gemstone (red garnet-almandine) Size: 3.3 cm in diameter
Bronze Roman Phallic Pendant inspired by an artefact from the 2nd or 3rd century CE. Phallic pendants were very comon, the largest collection comes from the Roman settlement of Camulodunum (now in England). It is a fairly universal amulet against evil forces and it is also belived to support…
Bronze reproduction of Raven Head Thor's hammer from Sigtuna, Sweden. Unlike  other hammers, or Mjolnirs, this particular one is not so well known and we are probably the first company to offer its reproduction.  Material: bronze Size: 3.2 x 3.5 cm Opening for a cord/chain: 4mm
Very large Bronze Celtic Head Pendant crafted in Celtic La Tene art style. An impressive accessory for a Druid or a warrior. Inspired by the head from the Aylesford bucket, dated back to the 1st century BCE. Material: bronze Size: 4.5 x 5 cm
Anglo-Saxon Eagle Bronze Pendant. This jewel is inspired by the early medieval Anglo-Saxon art style. Similar jewels were found on the British Isles and also on continental Europe (6th - 7th century). The model for this jewel was made by the ancient jewellery methods of filigree and…
Raven's skull bronze pendant, a slightly shamanic talisman of our own design.
Material: bronze
Size: 1.5 x 3.8 cm
Viking Lunula Bronze PENDANT Replica from Moesgard, present-day Denmark.
Material: bronze
Size: 4 x 4 cm
DOMOVOI (or Domowik) is, in Slavic folklore, a house spirit, a guardian of the house who sometimes helps with household or field work. Every house is said to have one. He lives under a threshold or under the stove. It is important to maintain a good relationship with Domovoi, you can present them…
Bronze Griffin Pendant. The griffin (also griffon or gryphon) is a legendary creature with the body, tail and back legs of a lion, the wings and head of an eagle. Material: bronze Size: 2.1 x 3.5 cm Bale on the reverse 5 x 9 mm
SLAVIC SVARGA (the Sun) symbol of the God Svarog - the God of Sun and Fire.
Material: bronze
Size approx. 3 cm
Replica of La Tene Celtic Deer Talisman. This pendant was found in a Celtic settlement  known as Oppidum of Stradonice, SW of Prague, the Czech Republic. One of the largest Celtic cities in an area of Central Europe with approx. 90 ha where in 1877 a treasure of 200 golden coins was uncovered.…
Aska - 10th century Viking Silver PENDANT Replica of an artefact from the location of the same name, in Hagebyhöga, Östergötland, Sweden. Material: bronze Height: 3.7 cm Weight: 20 g
Scythian Deer Brooch Replica. The original from the 7th century BCE, crafted in gold, was discovered in the Kuban basin area, Russia, where best Scythian art artefacts were found. Nomadic Scythians used to live in the steepes of southern part of Russia. Material: bronze Size: 3.1 x 4.5 cm
Scottish thistle as a national symbol of Alba (Scotland). Second only to tartan, nothing quite says 'Scotland' like this humble, prickly weed. A legend has it a sleeping party of Scotish warriors were saved from ambush by an invading Norse army when one of the enemies trod on the spiky …
Collach CELTIC BOAR Bronze Pendant. Wild boar is, besides birds of prey, the most frequently depicted animal in Celtic art. This indicates that it had a special significance in society. The available archaeological and numismatic evidence also strongly suggests that boar hunts may have…