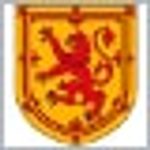 TWO HANDED SCOTTISH SWORD. Sword is blunt and designed for historical fencing. Quality leather grip, low weight. Wulflund made. Material 54SiCr6 steel Overall length approx. 130 cm Blade length approx. 106 cm Guard length approx. 34 cm
Belt buckle - FLAG OF SCOTLAND. Size. 50mm x 75mm x 50mm. Made in USA.
Sgian Dubh, Scottish decorative and ceremonial knife. Sheath included.
Material pewter
Size 5 x 5,5 cm
Material pewter
Size approx. 4 x 5 cm
Scottish Jewelry. Silver Pendant.
Material sterling silver
Size cca 1.7 x 2.5 cm
Shoes for universal age: Celtic, Scottish and Irish, or Roman, Early medieval, Slavic Era. Shoes hold and protect your ankle  better than ordinaly lower shoes. These shoes were developed escpecially for sword-fighting re-enactors. Hand made in the Czech Republic.
BLUNT Sword constructed for historical sword fight with riveted pommel. The name Claymore is thought to be derived from Claidheamh, a Gaelic name meaning the great sword. The weapon was used by the Scots for example during border fights with the English in the period 1500-1700 CE. The last battle…