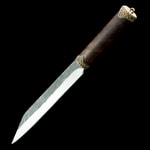 Knives
Forged knives, medieval seax knives. The majority of the knives we carry are forged and quite a few of them are replicas of historic knives inspired by findings at different archaeological digs (especially our Slavic, Viking, and Celtic knives).

Knife is as old as humanity itself. The first specimens of knives were made from knapped flint or obsidian way back in the Palaeolithic Period. Since this time knives have become such a part of our daily lives that we almost always take them for granted. Still, these small and very useful objects have won their way into our affections, especially among those who still consider themselves "hunters and gatherers" in some sense. In the Czech Republic we say that "every real man has to have a knife with him," though of course the ladies also find many uses for this most versatile tool and weapon. Which one from our collection will you choose?
Santoku Bōchō/Bunka Bōchō (文化包丁) KNIFE Cleaver is a general-purpose kitchen knife that originated in Japan. The word refers to the three cutting tasks which the knife performs well: slicing, dicing, and mincing. We slightly changed the design to perform well outdoors, it fits perfectly in the…
Hand Forged Celtic knife inspired by Celtic artefacts from European Iron Age settlements - oppida. Hand forged in Bohemia (land of the Boii tribes) by Arma Epona smithy. Material: spring steel, handle: high quality leather Overall length: 20 cm Blade: 9 cm Blade thickness: 4 mm
A reproduction of a Celtic knife found on Oppidum Závist, Bohemia, the Czech Rep. Only the blade was found. Compared to the original, we have increased the length so the knife can be usable as a "seax". Material: spring steel 54SiCr6, deer antler Blade length approx. 20 cm Max. width of the…
Forged knife "Vidar" inspired by viking, Slavic and Anglo-saxon knives. The blade is forged. Material high-carbon steel 54SiCr6 Grip: wood, horn Overall length: 27cm Made by Arma Epona smithy
Forged KNIFE with Bronze Decorated Handle inspired by the Viking Age artefacts crafted in the Borre style. The metal fittings are cast in bronze using the lost wax method. Material of the blade: high-carbon spring steel (54SiCr6) Material of the grip: wood, bronze Overall length approx. 20 cm
DRUID Celtic Style Knife with Bronze La Tene Pommel, the pommel designed according to an artfact found in Germany dating back to the 1st century is made by lost wax casting. material: steel, bronze, bone blade: forged handle: bone total length: 16 cm length of bone handle: 5 cm blade length:…
Hand Forged Luxurious Early Medieval KNIFE (Viking, Slavic) with Bronze Fittings of our own production. Blade 54SiCr6 high carbon spring steel Handle: walnut wood, bronze Overall length: 29.5 cm Blade: 15 cm
Forged Sharp Seax.
overall length: 57.5 cm
length of blade: 45.5 cm
blade width: 4 cm
you can also purchase leather sheath
UTON - Army Knife. Material: Stainless steel 420 - 55HRC. Handle: hardened rubber. Length: 250 mm. Blade length: 140 mm. Blade width: 24 mm. Product weight: 244 g.
Hunting knife - VENADO from Mikov. Blade Material: Stainless Steel 425 - 55-57HRCMaterial of handle: plasticLength: 248 mmBlade length: 138 mmBlade width: 25 mmProduct weight: 123 gincluding a leather case
Pocket folding knife - FISHLET in Czech: Rybicka (little fish) by Mikov. This design is over 100 years old and this knife has become very popular in many countriues of the world. Material of blade:    stainless steel 420 - 55HRCMaterial of handle:    zincLength of the product:    78 mmBlade length…
Ceramic sharpener from the legendary manufacturer of rifles, Walther, USA.
Skean Irish Fighting Long Knife inspired by an artefact recovered from the river Shannon, Ireland. Material high carbon steel, case hardened - 52 - 54 HRC Overall length 48 cm Blade length 35 cm Blade width 4 cm Weight 400 g Manufactured by Arma Epona Smithy, Czech Rep
Hand made sharpening stone from a sandstone. Manufactured in the Carpathian mountains. Size: 24 cm. Wooden case included.
Viking Damascus Knife. Hand made knife inspired by the viking finds (shape of blade, filigree sterling silver pommel and guard) and Scandinavian nature (elk antler, Finnish birch). Overall length: 30 cm, blade: 16.5 cm. Hand made by Ondrej Piskacek, Arma Epona Smithy.
Hand forged Small Knife with Deer Antler Handle.
Overall length: 12 cm
Blade length: 6 cm
Can be worn as a neck knife with our sheath
Hand Forged Viking Style Knife with Grand Leather Sheath. Suitable also as a working knife, for example for cutting leather. Sheath is decorated with bronze viking stud, the motive is based on a viking brooch from Gotland, Sweden.  Material high carbon spring steel, leather, bronze Total length…
Hand forged fisherman's knife. Overall lenght: 22 cm.
Hand made sharpening stone from a sandstone. Manufactured in the Carpathian mountains. Size: 24 cm.
Hand made sharpening stone from a shale. Manufactured in the Carpathian mountains. Size: 24 cm.