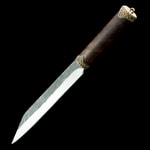 Knives
Forged knives, medieval seax knives. The majority of the knives we carry are forged and quite a few of them are replicas of historic knives inspired by findings at different archaeological digs (especially our Slavic, Viking, and Celtic knives).

Knife is as old as humanity itself. The first specimens of knives were made from knapped flint or obsidian way back in the Palaeolithic Period. Since this time knives have become such a part of our daily lives that we almost always take them for granted. Still, these small and very useful objects have won their way into our affections, especially among those who still consider themselves "hunters and gatherers" in some sense. In the Czech Republic we say that "every real man has to have a knife with him," though of course the ladies also find many uses for this most versatile tool and weapon. Which one from our collection will you choose?
Exact copy of a PRE-VIKING Forged SEAX. Original blade incl. the guard was found in Haithabu (Hedeby) and comes from the 7th-8th century. Wooden handle is made from one piece. Blade: 54SiCr6 high carbron spring steel Hilt: wood Overall length: 61 cm Blade: 48.5 cm Max. width: 4 cm Weight…
Overall length approx. 40 cm, length of the blade approx. 26 cm. This sharp replica (made from high carbon spring steel 14 260) can be used also in modern times during your stay in the nature. Leather sheath included.
Hand Forged Early Medieval SEAX. This kind of weapon/tool was used during the Viking and Anglo-Saxon Age as a weapon and as an everyday tool. We manufactured this knife sharp for use in the outdoors. Material: 54SiCr6 high carbon spring steel, wood Overall length: 40 cm Blade width: 2.5 cm
Hand Forged Celtic Knife, versatile, suitable as a dining knife or a kitchen knife.
Material 54SiCr6 spring steel
Overall length approx. 20.5 cm
Blade length: 9.5 cm
Leather sheath included
Hand forged knife, high carbon steel. Overall length approx. 19.5 cm, blade length: 10 cm.
Always order together with a knife of our offer. Sheath will be made to fit on knife.
Always order together with a knife of our offer. Sheath will be made to fit on knife.
Replica of a ROMAN KNIFE. Hand forged knife with the total length of 16 cm (handle: 11 cm). Made in the Czech Rep.
Viking or Anglo-Saxon Seax Knife, blunt for re-enactment. Material high carbon spring steel 54SiCr6, leather Hardness approx. 55 HRC Riveted pommel Overall length 55 cm Blade length 40 cm Weight 0.85 kg
Replica of a long Celtic (Iron Age) knife from the Oppidum of Manching (Bavaria, Germany). This oppidum was one of the largest settlements north of the Alps. Overall size circa 45 cm.
Handmade Traditional Style Sharpenig Stone.
Material: granulated shale, coarse-grained sandstone, wood
Size: 2.5 x 17 cm
Sharpenig stone with two different surfaces - fine granulated shale and coarse-grained sandstone for all types of knives, daggers, seaxes etc.
SHARPENING STONE with Wooden Container suitable for sharpening small knives such as Swiss pocket knives.
Total lenght: 15 cm. Knife is hand-hammered and polished.
Hand hammered practical knife. Lenght of blade: 9 cm.