rings - historical jewelry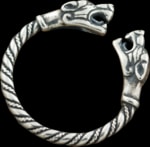 Rings - historical jewelry
Adjustable Silver ring inspired by a Great Moravia artefact dating back to the 9th century, Czech Rep., Central Europe.
Material sterling silver
Diameter of top disk 1.5 cm
Sterling SILVER Ring inspired by Roman artefacts dated back to the 2nd-3rd century. Material: sterling silver, garnet (almandine) Diameter of the ring disk: 1.5 cm Weight of silver: 6.5 g
Knotted snake ring. Designed by Kati.
Material sterling silver
Weight 4 g
Silver ring in the style of the early Middle Ages art of the Vikings and Slavs.
Material sterling silver
Weight 5.2 g
Viking SILVER Ring with Raven Heads. The design of the heads is inspired by the Bamberg Casket dating to about 975 CE. This Scandinavian work is made of oak, walrus ivory, gilded copper and precious stones. Its replica is exhibited in the Bavaria National Museum in Munich, Germany. Design: Kati.…