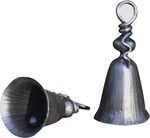 length: 23 cm
diameter of opening: 3.6 cm
Massive Celtic replica of a brooch that is a reproduction of very frequent Iron Age fibulas, common namely in France (Bobigny locality) and central Europe. This fibula is hand-forged and we consider it as one of the best replicas on the web. This product is appreciated namely by re-enactors and…
Forged Celtic fibula. Material: iron. Length: 10 cm.
Decorated Forged BROOCH.
Material: iron
Size: 6 cm
Hand forged torc - the jewel of the ancient kings, heroes, druids and the Gods. The torc is hand forged, black finished by oak bark and anti-corrosive lacquer is used.
Hand Forged and Simply Decorated TORQUE. Torque (troq or torc), from Latin torques - to twist, is a common name for all rigid metal neck rings, that our ancestors had been wearing since the Bronze Age. Torcs were popular with the Romans and it is considered a typical Celtic artefact. It was a…
Hand forged spear of a Norman horseman, reconstruction of an artefact from England dating back to the 11th century.
length: 21 cm
diameter: 4 cm
FIRESTRIKER and FLINT in Leather Pouch. Starting a fire with a lighter? Try this set of hand-forged firestriker and flint instead. You will also need some tinder, you can make your own using e.g. videos on Youtube. material iron, flint tinder is not included
Hand Forged Decorated Celtic ARM RING, comfortable to wear.
material: iron
covered with a thin layer of wax
please let us know your arm circumference
Hand-hammered iron brooch. 6 cm in diameter.
Hand-hammered iron brooch.