bronze and brass replicas - jewellery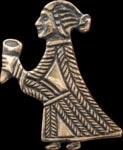 Bronze and brass replicas - jewellery
Bronze medieval buckle. Lost wax casting.
Dimensions: 25 x 34 mm
For 15 mm straps
Large unique and probably the first Thor's hammer in sci-fi necro-organic design. This Thor's hammer, or Mjolnir, is a synthesis of the human body (spine, pelvis) with body parts belonging to arthropods. Material: bronze Size: 4 x 5 cm
Bronze Viking Strap End inspired by an artefact from Borre, Norway, the 10th century.
Material: bronze
Size: approx. 1.5 x 4.6 cm
Large and heavy VIKIING NECKLACE comprising of viking hammer, chain and beast terminals. The hammer is a perfect reproduction of Raven Head Thor Hammer found in Kabara, province of Scania, Sweden. The terminals were originally found together with a mjolnir in the locality of Ödeshög -…
CELTIC BRONZE BELT BUCKLE. Celtic (La Tene) belt buckles were usually very simple. This is an exact replica of a Boii belt buckle from oppidum Stradonice, Bohemia, Czech Republic. Material: bronze Size: 2.2 x 3 cm Height: 1.5 cm Weight: 9 g
VIKING BUCKLE, Man's Head, Barshalder, Grötlingbo, Gotland, Sweden.
Material bronz
Size 2.8 x 8.4 cm
Weight 47 g
Bronze pendant of a Celtic deer. Hidden bale.
Material bronze
Size 3.2 x 3.7 cm
Viking Bronze Buckle Reproduction. The original artefact was found in 1880 in a mound near the farm of Gokstad (Sandar, Norway). This burial site was very rich (tents, horse equipment, ships) and it is suggested that it belongs to the Norse king Olaf Geirstad-Alf, the King of Vestfold. Material:…
Decorative Bronze Viking Stud, the motif is inspired by a viking brooch found in Gotland, Sweden.
Material: bronze
Size: 1.5 cm in diameter
Weight: 2 g
Bronze Leather Bag Decoration fitting the historical period of 14th-15th century. Material bronze Size 7×5 cm Weight approx. 36 g Includes five studs for fastening
Unique Thor's Hammer inspired by geological formations in Iceland, Ireland and the Czech Republic. Thor's Hammer, or Mjöllnir, is God Thor's magical weapon. The hammer is unbreakable, it always hits the target and then comes back to the owner's hand. The hammer flies through the sky in the…
Massive Bear Pendant for real bogatyrs who are happy to wear massive bronze jewels. The bear is decorated with typical early medieval ornaments which are known e.g. from Slavic and Viking bone carving on tools and knives. Material: bronze Height: 3 cm
SLAVIC SVARGA (the Sun), symbol of the God Svarog - the God of Sun and Fire.
Material: bronze
Size: 2.8 cm
Roman Hand PENDANT inspired by an artefact found in Germania Superior (imperial province of the Roman Empire). Similar hand-holding-a-small-ball pendants were also discovered in Celtic settlements and they are still worn today, for example in Italy, to protect the wearer against evil forces. …
The Great Moravian period inspired pendant. Lada is considered the Slavic Goddess of harmony, merriment, youth, love and beauty. Material: bronze and a gemstone (blue ijolite) Size: 3.3 cm in diameter
Bronze Roman Phallic Pendant inspired by an artefact from the 2nd or 3rd century CE. Phallic pendants were very comon, the largest collection comes from the Roman settlement of Camulodunum (now in England). It is a fairly universal amulet against evil forces and it is also belived to support…
Replica of an old Slavic jewel - Lunitsa (also Lunula or Luneta). The original was found near the city of Stare Mesto (Old Town), the 9th century, Great Moravian Empire (first state of western Slavs). Symbol of Lunitsa (or Lunula - little moon) is a female symbol. Such jewels were worn by Slavic…
Bronze reproduction of Raven Head Thor's hammer from Sigtuna, Sweden. Unlike  other hammers, or Mjolnirs, this particular one is not so well known and we are probably the first company to offer its reproduction.  Material: bronze Size: 3.2 x 3.5 cm Opening for a cord/chain: 4mm
Very large Bronze Celtic Head Pendant crafted in Celtic La Tene art style. An impressive accessory for a Druid or a warrior. Inspired by the head from the Aylesford bucket, dated back to the 1st century BCE. Material: bronze Size: 4.5 x 5 cm
Anglo-Saxon Eagle Bronze Pendant. This jewel is inspired by the early medieval Anglo-Saxon art style. Similar jewels were found on the British Isles and also on continental Europe (6th - 7th century). The model for this jewel was made by the ancient jewellery methods of filigree and…