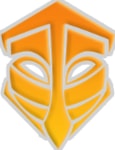 PUNISHER ACE OF SPADES 3D velcro patch.
material PVC
size 67 x 44 mm
velcro on reverse
HELM OF AWE 3D velcro patch. Helm of Awe or Helm of Terror (Ægishjálmur) is one of the Icelandic magical symbols. It is believed to possess powerful qualities of protection against evil or injustice. It was used by warriors to induce fear in their enemies' hearts and to prevail in battle. material…
BEER TOP, Beerzonenkronenkorken, 3D velcro patch. material PVC diameter 28 mm velcro on reverse
Built-in softshell hood with fleece lining and elasticated brim for insulation Softshell arms with elasticated cuffs Covert thumb hole with cover Velcro ID panels on both arms Softshell side panels with fleece lining Elasticated waistline for comfortable fit Full frontal zip 2 external zip…
Stainless steel hip flask by Jack Pyke of England. volume 118 ml height 10.5 cm screw top
Stainless steel hip flask by Jack Pyke of England.
volume 8 oz/235 ml
height 14.5 cm
screw top
The Viper Tactical MOLLE torch will fit inside the horizontal webbing on most MOLLE and Viper Modular Sysems. body made in lightweight Aluminium with rear metal clip takes just 1 x AA battery (not included) weight: 50 g brightness: 1 watt size: 8.5 x 2 cm
Embroidered Velcro Patch.
FIXIR Hunting Pocket Knife with backlock in leather sheath, delivered in a paper gift box.  material: blade - stainless steel 440A, HRc 56, handle - antler imitation manufacturer Mikov s.r.o., Czech Republic
FIXIR Hunting Pocket Knife with saw, bottle opener and backlock, delivered in leather sheath and paper gift box.  material: blade - stainless steel 440A, HRc 56, handle - antler imitation manufacturer Mikov s.r.o., Czech Republic
FIXIR Hunting Pocket Knife with saw, bottle and can openers and backlock, delivered in leather sheath and paper gift box.  material: blade - stainless steel 440A, HRc 56, handle - antler imitation bottler opener can be used as flat screw driver manufacturer Mikov s.r.o., Czech Republic
PRAKTIK Multifunctional Pocket Knife with linerlock, contains bottle opener/screwdriver, can opener, cross screwdriver, pike and ring for attaching to a belt. material: blade - stainless steel 420, 53-55 HRc, handle - plastic ergonomic handle manufacturer Mikov, Czech Republic
ADELE Ladie's Multifunctional Pocket Knife featuring nail file/screwdriver, tweezers, toothpick and scissors, a helpful accessory for every handbag. material: blade - stainless steel 420, 53-55 HRc manufacturer Mikov, Czech Republic
CROCODILE Pocket KNIFE with Backlock for everyday use, very light, resistant handle fits perfectly in the hand. material stainless steel blade 420-53-55 HRc, handle plastic manufacturer Mikov, Czech Republic
BRIGAND Knife with Sheath for work, outdoors as well as fishing.  material blade stainless steel 420, 53-55 HRc, handle hardened plastic manufacturer Mikov s.r.o., Czech Republic
FANG Knife with Guard and Leather Sheath favourite with outdoorsy people and hunters, ergonomical handle. material: blade, guard - stainless steel 420, 53-55 HRc, handle - hardened plastic manufacturer Mikov, Czech Republic
RESCUE Automatic Multifunctional Knife for the Emergency forces as well as difficult situations in everyday life. Easy to open with one hand. Includes standard blade, rescue blade, hook for safe cutting of seat belts, hammer for breaking glass, glass knife and belt klip. Tested by the Czech…
DIVER Multifunctional Knife for Divers with Nylon Sheath mainly for emergency situations underwater. Contains tearing hook, partially serrated blade and glass hammer/breaker in handle. material: blade stainless steel 440A, HRc 565 hook for tearing fishing nets etc. partially serrated blade for…
Bullet shaped stainless steel vacuum flask by Jack Pyke of England. Volume 500 ml Flip top closure Keeps liquid warm for hours 28 cm high 6.8 cm wide
Jack Pyke Triple Spinner Target. When the separate targets are hit they spin around the top bar and reset to the original position. Durable and stable. steel construction size 38 x 26 cm