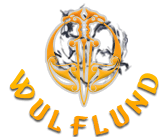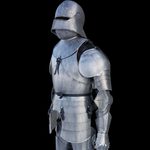 Hand Made Viking Helmet with Matt Finish for Reenactment and Collectors. Double protection of the top of the helmet Material thickness 1.5 mm for decoration, theatre; 2 mm for reenactment Always use a lining
Hand made viking helmet for re-enactment and training. Manufactured by Wulflund. Double protection of the top of the helmet Material thickness 2 mm Aventail length 20 cm, riveted chains 8 mm in diameter, 1.2 mm thickess wire, round cross section Always use a padded lining
Hand made viking helmet for re-enactors.   Double protection of the top of the helmet Face decorated Material thickness 1.5 mm for decoration and theatre, or 2.0 mm for re-enactment Always use a lining
Hand made viking helmet for the re-enactment. Double protection of the top of the helmet Face is decorated with hammering Material thickness 1.5 mm for decoration and theatre, 2.0 mm for re-enactment Always use a lining
Baldur Hand Made VIKING HELMET with Brass Decorated Face for Reenactors and Collectors.  Double protection of the top of the helmet Decorated face Material thickness 1.5 mm for decoration, theatre; 2 mm for reenactment Always use a lining
Hand made viking helmet for re-enactors. Double protection of the top of the helmet Face decorated Material thickness 1.5 mm for decoration and theatre, or 2.0 mm for re-enactment Always use a lining
Hand made viking helmet for re-enactors.   Double protection of the top of the helmet Face decorated Material thickness either 1.5mm for decoration or theatre role play, or 2.0 mm  for re-enactment Always use a lining
Hand made viking helmet for re-enactor's and collectors. Double protection of the top of the helmet. Decorated face. This helmet features: raised edges of eyes for better deflection of strokes convex nasal and frontal head stripe parts of helmet (fields) are tempered and hardened  helmet is…
Hand made viking helmet for re-enactors.   Double protection of the top of the helmet Face decorated by hammering Material thickness 1.5 mm for decoration, theatre role play; 2 mm for re-enactment Always use a lining
Hand made viking helmet for re-enactors.   Double protection of the top of the helmet Decorated face Material thickness 1.5 mm Always use a lining
Hand made VIKING HELMET. Manufactured in the Czech Republic for combat.
Hand made viking helmet for the re-enactors. Double protection of the top of the helmet Face decorated Material thickness 1.5 mm for decoration and theatre, 2.0 mm for re-enactment Always use a lining
Gorget and Pauldrons, two of the essential parts of medieval armour.
Width of the metal: 1.2 - 1.5 mm
This is a result of a fight between LARP (fantasy) warrior and armoured knight. Guess who won? :) Bracers are from tight leather. Size: 21 cm.
Heavy Leather Bracer reinforced with Steel Strips. Designed and made by the swordsmen to swordmen - expect quality materials and functionality. Price if for one piece. Suitable for the Viking Age and Slavic re-enactment.
Universal buckles that can be used for an armour, bags, bracers, scabbards etc. Material: tin and zinc alloy Size approx. 2.5 x 3 cm Suitable for belts 1.3 cm wide
Pair of hand-carved leather bracers in a Celtic style with Pictish boars (this motive you can see in Scotland, Dunadd, Argyll, 7th century). Overall size: 18.5 cm. Handwork. Hard leather.
Please see the details and follow instructions at the beginning of this page. 
Lacing Leather Roman Bracers with a hand-carved Roman eagle and metal studs. Length: 18,5 cm. Handwork. Hard leather.
Brown Leather Bracers made from hard leather to increase the protection of your arm.
Material: leather
Length: 12 cm
Price per pair