bronze and brass replicas - jewellery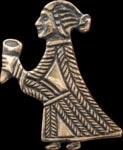 Bronze and brass replicas - jewellery
Viking brass bracelet. Inspiration: archaeological  find from the locality of Burg, Sweden.
Dreki Brass Viking Style Bracelet. Design is inspired by the Jellinge Viking art style. Similar dragons can be seen on brooches, rune stones and wooden items. Designed by Kati. material brass terminal size 25 mm size varies depending on the wrist size, on average 41 g
Lombard Brooch Reproduction of an original artefact from Italy, Cave di Ponte del Rio, from the turn of the 6th and 7th century. Material: bronze Size: 3.4 x 3.8 cm
Viking CROW Brass Bracelet with Raven Heads. The design is inspired by the Bamberg Casket dated back to cca 975 CE now exhibited in the Bavaria National Museum in Munich, Germany. material brass Terminal size 21 mm Weight on average 30 g
Celtic Cat Brass Bracelet. Designed by South Bohemian artist Kati. material brass
Collach Brass Bracelet with Pictish Boars. The design is inspired by the rock carvings in Scotland (Dunadd) created by the Picts sometime during the Late Iron Age and Early Medieval periods. Boar was revered, especially by the Celts, for its strength, perseverance and courage.
Brass Viking Wolf Bracelet. The design is inspired by a bracelet found in Burg, the isle of Gotland, Sweden, the head terminals are based on the terminals of the Wolf's Cross from Iceland. A beautiful piece of art reflecting history. Material: brass Size of the head: approx. 20 × 10 × 10 mm
Hand Stamped Bronze Viking Ring with Adjustable Size.
Bronze (not just) beard ring.
Bronze
Height 2.5 cm
Diameter 7 mm
Hand made Braided Bracelet with Snake Heads. We also sell torques of the same design.
Material: brass
Terminal size 26 mm
Weight varies depending on the size
Replica of a strap-end that originated in the Great Moravia, 10th century.
Material: bronze
Size: 2 x 5.5 cm
A replica of the Great Moravian Belt Set, dated to the 9th-10th century. The belt buckle is a replica of a find from Žitavská Tôň, Slovakia. Material: bronze Size of the buckle: 3.1 x 3.9 cm Size of the strap-end: 2 x 5.5. cm Weight: 45 g Suitable for 2 cm wide belts
Brass Torques with Viking Snake JÖRMUNGANDR. Migration Period golden bracteates, Vendel era helmet plates and Germanic Iron Age bird-shaped brooches all feature this Water Dragon, artefacts were found in Uppsala, Valsgärde and Sutton Hoo. According to Norse mythology Jörmungandr, or…
Replica of a Roman Bronze Fibula found in a Roman military camp in Musov, Moravia region, Czech Republic, near the Austrian border. material: bronze length: 3.3 cm width: 3.1 cm height: 1.1 cm
Belt Buckle Bronze Replica of an artefact dated back to the 10th century, Žitavská Tôň, Slovakia. Material: bronze Size: 3.1 x 3.9 cm For 2 cm wide belts
Knotted Snake Ring designed by Kati.
Celtic Boar Bronze Pendant Replica of a boar figure from Tabor, Czech Republic, La Tene culture, a symbol of virility, warrior spirit and courage.  Material: bronze Length: 3 cm
Bronze Ring with Cat's Heads. The ring can be slightly adjusted. Designed by Kati.
Dreki Bronze VIKING style PENDANT inspired by the Jellinge Viking art style. Similar dragons feature on brooches, rune stones or wooden items. Dreki, in Old Norse meaning dragon, frequently appears in Norse mythology, the most common being Níðhöggr, who gnaws the roots of Yggdrasill - the mythical…
Viking Sword Chape Replica type 1b2 crafted in the Borre Viking art style, the original artefact was found in Gdynia Oksywie, Poland. The chape was made using lost wax casting method. Material: bronze Height: 6.5 cm Width: 2.1 cm