bronze and brass replicas - jewellery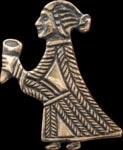 Bronze and brass replicas - jewellery
Stylized Celtic Pendant with a beast, perhaps dragon's or boar's face. It is a replica of an Iron Age artefact from central Bohemia (Czech Rep.), locality of Skryje near the village of Podmokly where the famous Celtic treasure of golden Celtic coins was found. The original is deposited at the…
Celtic Bronze RING Replica of a ring about 2,200 years old worn by a memeber of Boii tribes settled in Central Europe. The ring is yet another example of fine Celtic craftsmanship. The mold for the ring was created using the actual archeological artefact as opposed to a wax model. One size only.…
Fully Functional Hand Casted Replica of Iron Age Fibula from Central Europe, Bohemia (locality of Stitary near the city of Kolin). Ideal for ladie's dresses, tunicas etc. Material: bronze Size: 3.6 cm
Replica of a Celtic Iron Age Talisman found near Losanky, Czech Republic. Similar pendants were quite frequent at the time. Method of hand casting was used. Material bronze Diameter 2.3 cm
Axe of Perun, aka Hatchet Amulet, Replica of a battle axe pendant found in parts of Scandinavia, Russia, Belarus and Ukraine. Perun is a pre-Christian God of Thunder and Lightning and is the highest God of the Slavic pantheon. Some experts connect the amulet to the Norse culture. Material:…
VIKING SHIP WITH RUNES, bronze pendant.
Material bronze
Diameter approx. 3.6 cm
VIKING SHIP with Runes Bronze Bracelet.
material bronze
diameter approx. 6 cm
Replica of Raven Head Thor Hammer found in Sweden, locality of KABARA, Sweden. Material bronze Size 4 x 4.3 cm Weight: 17.9 g The photo of the original artefact.
Bronze Thor's hammer, the original viking pendant was found at Romersdal on the island of Bornholm, Denmark. It is now exhibited at the National Museum in Copenhagen. Thor's Hammer, or Mjöllnir, is God Thor's magical weapon. The hammer is unbreakable, it always hits the target and then comes back…
KNOTTED BIRDS Bronze Brooch or Pendant with pin and bale on the reverse.
Material bronze
Size 1.4 x 4 cm
CELTIC CROSS KNOTTED BRONZE BROOCH.
Material: bronze
Size: 3.3 in diameter
VIKING BRONZE BROOCH with dragon motive symbolizing a winding path.
material bronze
size 3.2 x 3.9 cm
VIKING BRONZE BROOCH, featuring dragon's head.
Material bronze
Size approx. 2.5 x 6.5 cm
Decorated Casted Celtic Torque. Torque (troq or torc), from Latin torques - to twist, is a common name for all rigid metal neck rings, that our ancestors had been wearing since the Bronze Age. Torcs were popular with the Romans and it is considered a typical Celtic artefact. It was a symbol of both…
Decorated Casted Celtic Torque.
Bronze Belt Stud Replica from Russia, the 9th-10th century. 3 nails for fastening on reverse.
Size approx. 1.8 x 1.8 cm
Weight 3 g
Bronze Viking Cloak Hook Replica of an artefact found in England, dating back to the 9th century, for sewing onto the garment. Material: bronze Size approx. 1.8 x 5 cm Price is per one piece