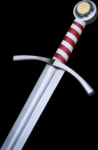 Swords
European Swords, Medieval Martial Arts - Re-enactment and Living History Swords.
Cold weapons from various historical periods intended for historical fencing as well as for collectors and connoisseurs of fine craftsmanship. We have a very extensive range of weapons designed by ancient civlilisations such as Celtic and Roman swords and gladiators' weapons. You may also be interested in swords of the Early Middle Ages: Norman and Viking swords. Our armoury of medieval swords includes one-handed and hand-and-a-half Gothic swords (longswords), cutlasses and two-handed swords. You will also, of course, find cold weapons from later historical periods: rapiers, foils, sabres, backswords, and Scottish weapons. There is also a category devoted to those weapons used for historical medieval battles (HMB).
Battle Ready Hand and a Half Sword with Guard Decorated with Gothic Trefoil. We can deliver the same sword as a single handed replica. Material 54SiCr6 Overall length of the sword 121 cm Blade length 91 cm
overall length            133 cm
lenght of the blade      92 cm
lenght of the handle     33 cm
BLUNT One and a Half Handed Sword constructed for historical sword fight. Material hardened 54SiCr6 steel, leather and wood Hardness 52 HRC. Total length 124 cm Blade length 92 cm
One Handed BLUNT Sword constructed for reenactment.
Material: hardened steel, leather and wood
Hardness: 52 HRC
Total lenght: 100 cm
Blade length: 80 cm
UNIVERSAL Brown Leather SWORD HOLSTER for blunt one and one-and-a-half hand swords with two loops to fasten to your belt. Lacing allows adjusting for different blade types. Material genuine leather Overall size 19 x 24 cm RIGHT HANDED
One of our most popular Gothic Hand and a Half Swords, BLUNT and constructed for historical fencing - reenactment. Material 54SiCr6 steel, leather and wood Hardened to 52 HRC Total lenght of the sword 120 cm Length of blade 91 cm
Single Handed Mamluk Falchion Sabre or Saracen Falchion, BLUNT for reenactment. Material 54SiCr6 high carbon spring steel Hardness 52 HRC Total lenght 80 cm Lenght of blade 63 cm
Forged Hand-hammered SWORD inspired by Celtic antropomorphic swords, blunt and constructed for historical fencing. Brenus was a Celtic chieftain who captured Rome. material forged case hardened steel, leather overall length 79 cm length of blade 65 cm width of guard 10 cm width of blade at the…