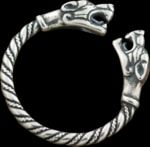 Silver jewels
Hundreds of silver jewellery items in stock, of all shapes and colors. Our replicas of ancient granulated and filigree jewels are true treasures. We have designs that hark back to Great Moravia and classical antiquity, as well as Viking adornments for the adventurous at heart. Time travellers will also surely appreciate our Medieval necklaces and rings with gemstones.
We also have a wide selection of modern jewellery, including some that purely stems from our designers' imagination, and timeless creations inspired by nature, outer space, and even the contemporary industrial environment. We particularly specialize in jewellery made with enchanting green Czech moldavites.
Sterling silver jewellry - ancient (Celtic and Roman jewellery), medieval (Viking, Dark Ages) and modern (fantasy) necklaces, earrings, pins, bracelets and rings.

We are one of the oldest European shops that sells historical jewelry replicas. After many years of import and export of jewellry we now have our own jewellry workshop (Wulflund Jewelry) and we produce perfect replicas of historical jewellry. Our motto is that a piece of jewellry should have a soul and that our customer will wear such item forever. For these reasons expect from us "The Jewel" whose beauty will never fade.
Production, Export, Import, Custom made production - Wholesale Store.
Average shipping worldwide price: 5 Eur. Quick payment by Paypal.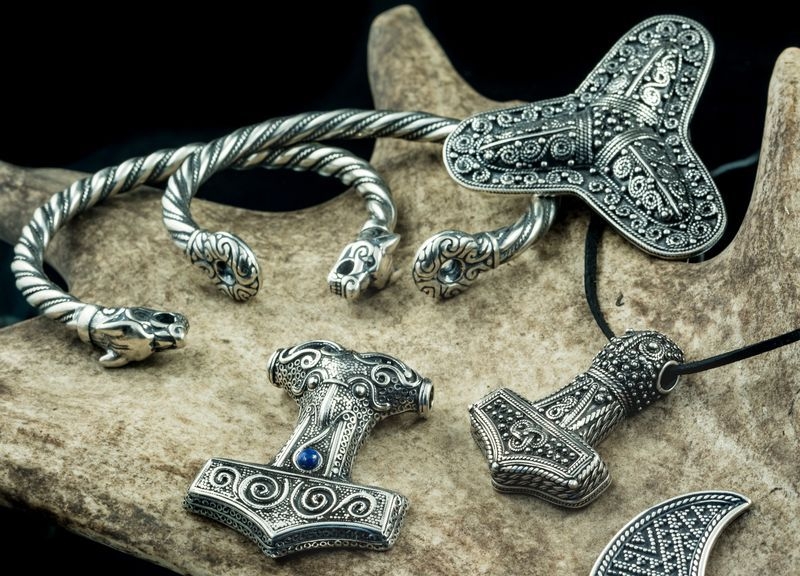 Modern Design Silver MJÖLLNIR Pendant. Mjöllnir, or Thor's Hammer, meaning grinder or crusher, is God Thor's magical weapon. The hammer is unbreakable, it always hits the target and then comes back to the owner's hand. The hammer flies through the sky in the form of a lightning. To be able to…
Collach CELTIC BOAR Silver PENDANT. Wild boar is, besides birds of prey, the most frequently depicted animal in Celtic art. This indicates that it had a special significance in society. The available archaeological and numismatic evidence also strongly suggests that boar hunts may have played an…
COLLACH CELTIC BOAR Silver Pendant. Wild boar is, besides birds of prey, the most frequently depicted animal in Celtic art. This indicates that it had a special significance in society. The available archaeological and numismatic evidence also strongly suggests that boar hunts may have played…
Sterling SILVER SPARTAN HELMET PENDANT. pendant of helmet of one of the most feared military forces in the Greek world.. This is SPARTA!  Material: sterling silver Size: 1.9 x 2.7 cm Size of hidden bale: 4 x 6 mm
Druid Sickle Silver Pendant.
Material: sterling silver
Size: 1.2 x 3.3 cm
This roman phallic pendant is crafted on the basis of an artefact discovered in Rome (2nd-3rd century). These pendants were widespread in the whole Roman Empire with the largest collection found in the Roman settlement Camulodunum (now in England). This is a fairly universal amulet protecting the…
So called Troll Cross is a strong protective symbol of the old Scandinavian folklore. It protects people, animals and homes against evil and it will help you in a forrest if you encounter trolls and other unfriendly creatures. The pendant is based on the rune called Othila, a strong Germanic…
Fenrir - the Viking Wolf Sterling Silver PENDANT, one of our most distinguished products. The design is inspired by the Viking art style Borre (named after the locality in Norway, 9th-10th century). Wolf symbolizes strength, endurance and freedom.Fenrir is the eldest son of the God Loki and the…
The Great Moravia Empire inspired jewel. Lada is Slavic Goddess of harmony, merriment, youth, love and beauty. The Price is per item without a gemstone. YOU CAN SELECT A GEMSTONE FROM OUR OFFER - 7 mm cabochon. Material: silver 925 Size: 3.3 cm in a diameter Weight: 5,9 g
A DOMOVOI (or Domowik) is a house spirit in Slavic folklore. In Slavic mythology every house is said to have its own house dwarf. The DOMOVOI is a guardian of the house and he sometimes helps with household chores or work in the garden.  He also symbolizes  prosperity. He likes to live under the…
A beautiful piece inspired by Slavic early Medieval finds of the Great Moravian Empire. Vesna is according to Slavic Mythology the Goddess of youth, life, beauty, love and the spring. Material sterling silver Size 3 x 3.7 cm, bale6 mm in diameter Weight 9 g On request we can place a gem of…
Mjolnir Raven Head Thor Hammer Reproduction of an artefact from Kabara, Scania, Sweden. In our opinion one of the best Thor's Hammer reproductions on the market. Material: sterling silver Size: 4 x 5 cm   Weight: 17 g (!) Shipping worldwide from 5 USD Click the picture to see the photo…
Ægishjálmur (Helm of Awe or Helm of Terror) is one of the Icelandic magical staves. It is believed to possess powerful qualities of protection against evil or injustice. It was used by warriors to induce fear in their enemies' hearts and to prevail in battle. Material: sterling silver Size: 1…
CZECH LION - large silver pendant which symbolizes the Czech statehood. Symbol of the double-tailed lion is the old heradlic symbol of Bohemia.  The facial expression of this lion is not a mute national symbol, it overflows with pride, fighting spirit and the proper portion of anger.  Today the…
Replica of an old Slavic jewel - Lunitsa (also Lunula or Luneta). The original was found near the city of Stare Mesto, Uherske Hradiste, the Czech Republic, the 9th century, Great Moravian Empire (first state of western Slavs). Symbol of Lunitsa (or Lunula - little moon) is a female symbol. Such…
Old Pagan Solar Cross from early medieval times - Great Moravian Empire. The model for this jewel was hand made - this replica is very close to the original find. Size: 2,5 cm. Weight: 3.7 g. Materal: silver 925. Size of the eyelet: 4 mm.
A unique piece of silver jewellery indeed! It is probably the first one in the world that combines the symbol of Kolovrat with jewellery making methods of granulation and filigree that were very popular in early Slavic Empires, such as the Moravia Magna Empire. The Kolowrat (Kolovrat, Collowrath)…
Unique silver piece that depicts the symbol of Kolovrat, and shows old jeweller's methods of granulation and filigree that were very popular during the early Slavic Empires (such as Moravia Magna Empire). The Kolovrat (Kolovrat, Collowrath) symbol is in modern ages considered a panslavic pagan…
Double Sided Silver Kolovrat Pendant, the Kolowrat (Kolovrat, Collowrath) symbol is in the Modern Age considered a panslavic pagan symbol of the Sun. The symbol can be found in architecture, on embroidery and pottery from the Early Slavic period in most Slavic countries. Its massive popularity…
A replica of an old Slavic jewel - Lunitsa (also Lunula or Luneta). Casted granulation and filigree. The original was found near the town of Staré Město (Old Town), the Great Moravian Empire (first state of Western Slavs), today the Czech Rep, 9th century. The symbol of Lunitsa (or Lunula - little…