Our dealers
Become our re-seller!!!
Established in 2005
Unique products, our workshops
Custom production, cooperation with films
fast and cheap shipping by FedEx or USPS
Register - here

List of some of our dealers:
Sons of Vikings (main reseller of Viking jewellery and fashion) - Viking jewelry
Kult of Athena -cultofathena.com

UNITED KINGDOM and Ireland

:
Contact details for customers from the United Kingdom: we are expanding and have a new person joining the team to help with our expansion to the UK and Irish market. She can help you with your wholesale queries. Please contact her on her phone: Marketa Hastie, phone number: +44 (0) 7591 997 697, wulflundexport@gmail.com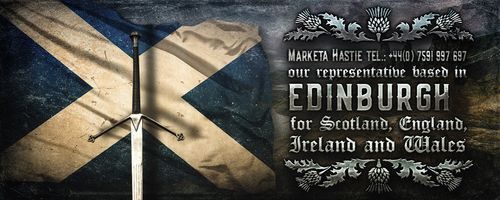 Hersir Store - Fb Shop
Swords and More - swords-and-more.de
Middle Ages Shop - shop.middle-ages.com
WANTED !!!
Sabii de Toledo - sabii-de-toledo.ro
Le Gardien des Elfes - legardiendeselfes.ch
We offer to worldwide merchants the possibility to supply their shops, e-shops and market stalls with our goods.

Wholesalers can register on our pages like any other customer, in your email request to be registered as a wholesaler, and after checking your details we will assign your account to the category of re-sellers.

Privilege to be a re-seller can be offered to every merchant who considers cooperation with us seriously.  We ship worldwide with courier services such as DPD, FedEx or by regular post.

After over 10 years in the re-enactment business and the success of our products in Europe and overseas we are interested to build a larger business network. We ship worldwide without any problems, you can also buy our items through our foreign business partners (see list below).
Why you should begin cooperation with us:
We are a large company, 100% Czech (European Union) company with extensive experience and an established worldwide reputation.
No barriers, no limits - no minimal orders.  We want to support your business.
We have our own jewellery, smithy and armoury workshops.  We currently operate two physical shops in Prague.
Worldwide shipping (DPD, FedEx etc.).
Reliable and Paypal verified shop with a service guarantee.
As you can see the image from Google analytics (below), the majority of our customers and visitors are from the USA.  This country is for us an inspiration on how to conduct business and drives our business model.  We are in return an inspiration to our US customers because of our product authenticity and quality, which are our common heritage since the ancient times.
We are currently looking for dealers especially in North America in these regions:
USA - Northeast, Midwest, South, West, and in Canada.
How to become a re-seller?
1) Register Wulflund - wholesale
2) Create an account and we will make your account active. Once your account is active you will be able to see our wholesale prices.
Contact us via email: wulflund@gmail.com or contact form.