drugstore - cleaning and hygiene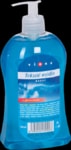 Drugstore - cleaning and hygiene
Drugstore - cleaning and hygiene products.
Disposable gloves, slightly powdered, 100 pcs per pack. Recommended application: laboratories, cleaning, paint.
Ecological washing paste with glycerine and lanolin for very dirty and greasy hands.
Paste for very dirty hands.
Healing hand cream with camomile and vitamin A
Liquid hand soap 3 fragrances, with a pump.