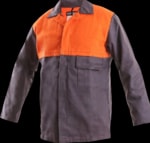 Protective clothing
Protective and work clothing.
Men ́s welding jacket featuring buttons for pulling up sleeve cuffs, reinforced elbows, covered button fastening, chest pocket with velcro on the left side. Colour orange-grey Material PROBAN non-flamable 100% cotton twill, non-flamable threads, 390 g/m2 EN 340, EN 11611 třída 1 A1/A2
Heat resistant gloves sewn with Kevlar® thread. Protection against radiant heat and spattering of melt. Resistance up to 500 °C. Glove lenght: 27 cm. Recommended application: working with hot objects and environments with radiant heat. Industry: foundry.
Earcup pivot points tilt for optimum comfort and efficiencyUltra light (only 180g) with liquid/foam filled earmuff cushions.SNR-value: 27 dBDescriptionRecommended Application: Chipping, Drilling, Furnace Operations, Chiseling, Grinding, Heavy Equipment Operations, Machining, Pouring/Casting, Power…
Welding apron, cow split leather, covered shoulders, length below knees.