MEDIEVAL MONK, costume rental
Costume of a medieval monk for rental. This costume includes: coat, hood, textile belt, rosary with the cross, sandals and leather pouch.
Price for rental of this costume is for 3 days. Only in the Czech Republic - our services are used especially by local and foreign film companies. Our business ideology is to offer to our clients authentic costumes (materials, handwork, authentic patterns).
Related products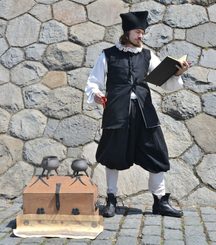 $27.72
Catalogue number: PUJ105
Upon request