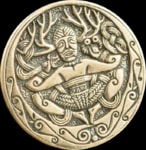 CELTIC Knotted CROSS with Enamel AMULET. The Celtic cross is a combination of Christian cross and  the Pagan symbol of the Moon Goddess (the circle). It is also refered to as the Sun Cross and it was supposedly introduced by St. Patrick. Material: tin alloy covered with antimony, stained glass  …
CELTIC AMULET with vitrail.
Tin alloy covered with a thin layer of antimony, patinated
Size 3 cm
CELTIC CROSS inspired by the Book of Kells illuminations.
Tin alloy covered with a thin layer of antimony, patinated
Size 2,8 x 2,8 cm
The Celtic cross is a combination of Christian cross and the pagan symbol of the Moon Goddess (the circle). The Celtic cross is also refered to as the "Sun Cross". This symbol has been supposedly introduced by St. Patrick. The word "Erin" literally means "Ireland". Material: tin alloy (white…
Boar Figurine Replica of an artefact from Tabor, Bohemia, the Czech Rep., La Tene culture. The boar is a symbol of masculine power, it represents wealth, as well as courage and strength of a warrior. These characteristics are the result of the boar's temperament: toughness, high reproductive…
The amulet symbolizes three elements. It is a Celtic (and pre-Celtic ) symbol which is recognized by archeologists in various forms on rock carvings and ceramics. It expresses three various elements (fire, water, air). The circle emphasizes the overall meaning. Material: white metal Size: 5 cm
Spirals and knots, favourite Celtic motifs. (For example, look up the flag of Isle of Man, Great Britain). Number 3 had different meanings in the lives of the Celts, possible interpretation are - three stages of our existence, or the three elements - fire, water, air. Leather cord included. …
Fairly massive Triquetra pendant, resistant to mechanical straining. One of the meanings of Triquetra (from latin tri - three, and quetrus - horn) is "an inseparable bond".  Material pewter Height 4 cm 
Knotted Celtic herons - symbolize harmony and peace, a European equivalent of the Yin Yang symbol. In Egypt heron is considered to be the creator of light. A double headed heron is believed to be a symbol of prosperity. In the Chinese culture the bird is the symbol of strength, purity, patience and…