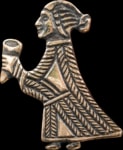 Old Pagan Solar Cross inspired by an artefact from early medieval times of the Great Moravian Empire. In order to create a pendant as close to the original as possible we crafted its model by hand. Materal: bronze Size: 2,5 cm
Bronze Taranis Wheel Pendant. Taranis, one of the most powerful Celtic Gods, is associated with the natural forces such as the wind and lightning. Unusual pendants resembling a wheel were discovered in many Iron Age localities. This is a replica of a Taranis wheel found in…
Bronze Bridge Fibula as a pendant inspired by an artefact form the 6th-7th century CE discovered in a Slavic settlement in present-day Velesnica, Serbia. These fibulae were very common across Europe among Slavic and other cultures. Our model for this jewel was crafted by the traditional…
Bronze Bridge Fibula as a pendant. These fibulae were very common across Europe among Slavic and other cultures. Our original  model for this jewel was crafted by the traditional methods of filigree and granulation. Material: bronze Size: 2.1 x 4. 6 cm
Replica of a Celtic pendant of a dog or a doe from the 1st century of the Old Age, locality: Stare Hradisko Oppidum, the Czech Republic. This well-explored Celtic settlement in the east of Iron Age settlement covered 37 ha with fortification of total length 2800 m. It was a rich Celtic city…
Celtic Horse Pendant inspired by a fibula of a horse from Iberia, the 5th-6th century of the Old Age. Material bronze Size 2.7 x 3 cm Drawing of the original find: fibula from Iberia
Iron Age Pendant (the 1st century BCE) with glass beads. Exceptional piece of art. The original was probably found somewhere on continental Europe (Gallia?), possibly part of horsegear. Our reproduction as a pendant features the triskele (thre realms) and feminine lunar symbols. Glass beads are…
Stylized Celtic Pendant with a beast, perhaps dragon's or boar's face. It is a replica of an Iron Age artefact from central Bohemia (Czech Rep.), locality of Skryje near the village of Podmokly where the famous Celtic treasure of golden Celtic coins was found. The original is deposited at the…
Replica of a Celtic Iron Age Talisman found near Losanky, Czech Republic. Similar pendants were quite frequent at the time. Method of hand casting was used. Material bronze Diameter 2.3 cm
Axe of Perun, aka Hatchet Amulet, Replica of a battle axe pendant found in parts of Scandinavia, Russia, Belarus and Ukraine. Perun is a pre-Christian God of Thunder and Lightning and is the highest God of the Slavic pantheon. Some experts connect the amulet to the Norse culture. Material:…
Replica of Raven Head Thor Hammer found in Sweden, locality of KABARA, Sweden. Material bronze Size 4 x 4.3 cm Weight: 17.9 g The photo of the original artefact.
VIKING SHIP WITH RUNES, bronze pendant.
Material bronze
Diameter approx. 3.6 cm
Bronze Thor's hammer, the original viking pendant was found at Romersdal on the island of Bornholm, Denmark. It is now exhibited at the National Museum in Copenhagen. Thor's Hammer, or Mjöllnir, is God Thor's magical weapon. The hammer is unbreakable, it always hits the target and then comes back…
VIKING BRONZE BROOCH, featuring dragon's head.
Material bronze
Size approx. 2.5 x 6.5 cm