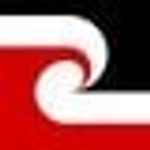 Hei Matau or fish hook. New Zealand natives typical motif - Maori. It symbolizes strength, luck and succeed on the voyage. Traditionally are these talismans carved from whale bone. Dimensions approximately 1.4 x 3.0 cm. Weight approx 3.7 grams Material: Ag 925.
MAORI, long silver earrings.
Material sterling silver
Size approx. 0.8 x 3.5 cm
Weight of pair 7.4 g
Maori SIlver Talisman.
Material sterling silver

Size circa 1.7 x 3 cm
Weight 4.3 g