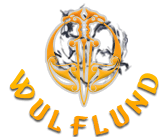 PAGAN JEWELS, Wholesale Lot of 10 pcs with leather cords
Discounted set of 10 pieces of Pagan Pendants for re-sellers and for those who are looking for a set of presents (children camps, schools, company gifts etc.). Free leather cord with each pendant. Replicas of original finds and author jewels.
From the left side: Celtic Stag (La Tene Age, Stradonice oppidum, Bohemia), Viking Wolf (inspired by the viking art style), Kolovrat (Slavic Sun symbol), Two-tailed Lion (Medieval and current coat of arms symbol, Bohemia), Perun's Axe (Slavic axe, Poland, Russia), Domovoi (Slavic house deity), Green Man (Spirit of the Nature), Taranis Wheel (Celtic talisman, very common symbol of the Celtic God of Sky and Thunder, replica from the Stradonice oppidum, Bohemia), Viking bracelets (Gotland, loclaity of Burg).
Related products
$103.43
$101.30
Catalogue number: WSL5
In stock
$27.72
Catalogue number: WSL4
Unavailable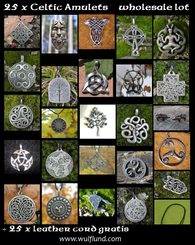 $76.77
Catalogue number: BHJ50
Unavailable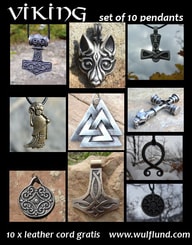 $37.32
Catalogue number: WSL1
Unavailable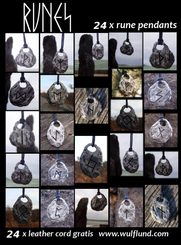 $90.63
Catalogue number: WSL2
2-3 weeks