Krakonos - Rübezahl - Costume Rental
Krakonoš - in German Rübezahl is a folklore mountain spirit (woodwose). He protects the Krkonoše Mountains (Giant Mountains, Riesengebirge, Karkonosze) - the mountains between the historical lands of Bohemia and Silesia. 
Price for rental of this costume is for 3 days. Only in the Czech Republic - our services are used especially by local and foreign film companies. Our business ideology is to offer to our clients authentic costumes (materials, handwork, authentic patterns).
Related products
$34.12
Catalogue number: FIG725
In stock
$94.90
$85.30
Catalogue number: SBR7415
In stock
$34.12
Catalogue number: FIG854
In stock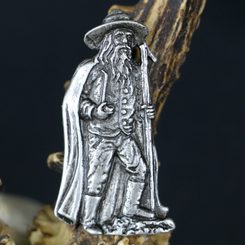 $5.33
Catalogue number: SLE722
In stock