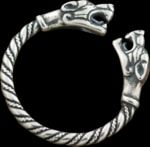 Bronze Viking Cloak Hook Replica of an artefact found in England, dating back to the 9th century, for sewing onto the garment. Material: bronze Size approx. 1.8 x 5 cm Price is per one piece
Silver (2.8 g) pendant inspirated by Book of Kells paintings. Size cca 1.8 x 2.5 cm.
The Gomb - a silver Slavic/Viking button or a silver bead for your necklace. Material: 295 silver Size 1 x 1.3 cm Weight approx. 3 g
Pair of silver terminals for Viking pendants such as Thor's Hammers (Mjolnirs). Can be used as end terminals for silver chains or leather cords. The holes in the mouths of the beasts hold pendant hoops. Price is per pair Material sterling silver Length 2.6 cm Weight 5 g/1 piece Diameter of…
Large silver pendant. Reproduction of a pendant from Varba, Sweden.
Material sterling silver
Size 3.4 x 3.6 cm
Weight cca 16 g
Silver (925) Celtic earrings with the motive inspirated by Irish Book of Kells. Size: 1.8 x 2.3 cm. Weight: cca 5 g/pair.
Made after a find of a wooden Slavic idol of a four-headed Slavic God Svantovit from Jomsborg - Wollin, Poland).  Svantovit is a Slavic God of war, fertility and abundance. He has four heads to protect you from all sides. Body of this pendant resembles the bark of an oak tree - sacred tree…
Probably one of the most interesting Hammers of Thor on the Czech market, in ths case decorated with a garnet. It is inspired by an archeological find from Kabara, kraj Skåne, Sweden. The original is exhibited in the Swedish History Museum. Material: sterling silver, garnet Size: 4 x 5 cm Weight…
Stylized silver pendant (925). Viking ship (Drakkar) and Viking Warrior. Height: 4,8 cm. Weight: cca 10 g.
Silver Ring with Viking Wolf Heads. Our design of the wolf's head is inspired by the Wolf's Cross, a Thor's Hammer found in Fossi, Iceland, 10th-11th century. We stock several sizes, please let us know the required size. The ring is adjustable. Material: sterling silver Weight: 4 - 5 g …
Filigree pendant with granulation. Material: silver. Size: 4 cm
Silver earrings with granulation.
Material sterling silver (925/1000)
Materials: turquoise and sterling silver
Completely handcrafted silver (925/1000) pendant (inspiration: lunette from Dolni Vestonice - Moravia, 10th century). Used techniques: filigree and granulation. Width: 40 mm.