SPARTA, Spartan warrior, pendant, bronze
SPARTA, Spartan shield, bronze pendant.
Not only the 300 Spartans who defended Thermopylae became legends, but also the sentence MOLON LABE or "Come for them!" is memorable; this is how King Leonidas of Sparta refused the demand of King Xerxes of Persia that the Greeks surrender their weapons before the Battle of Thermopylae.
Shaped like a Spartan shield and warrior's helmet from ancient times, this pendant is for those who don't give up, who deserve to wear this symbolism proudly around their necks.
Material: bronze
Size: 2.8 cm
Related products
$53.31
$39.99
Catalogue number: SBR496
In stock
$52.25
Catalogue number: GOR7584
In stock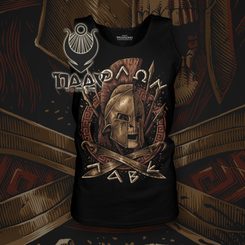 $26.66
Catalogue number: NAV307
2-3 weeks