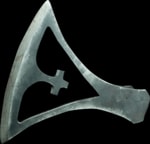 Iron Pole Axe with Wooden Pole.
Light battle ready weapon.
overall size 60 cm
length of head 12 cm
weight 1.1 kg
overall lenght approx. 60 cm
lenght of the head 14 cm
weight 1.58 kg
Double-Bladed Warrior Axe collectible or decoration.
Size of the metal part 21 x 36 cm
Size of the wooden handle approx. 100 cm.
Hussite Axe Replica, Bohemia, Czech Rep., the 14th century. 
A very dangerous weapon popular in Germany and Switzerland.
Small-scale production
Size: 59 cm x 24 cm