$21.49
Catalogue number: TTS719
In stock
$34.12
Catalogue number: ARO122
In stock
$31.60
Catalogue number: TOR564
In stock
$48.03
Catalogue number: NES04
In stock
$5.06
Catalogue number: SLE58
In stock
$319.76
Catalogue number: MSW262
2-3 weeks
$5.06
Catalogue number: SLE26
In stock
$24.01
Catalogue number: TOR644
In stock
$3.79
Catalogue number: SLE79
In stock
$31.60
Catalogue number: TTS714
In stock
$15.17
Catalogue number: TOR638
In stock
$5.06
Catalogue number: SLE53
In stock
---
$123.86
Catalogue number: FGJ61
In stock
$26.54
Catalogue number: TTS355
In stock
$70.78
Catalogue number: SBR212
In stock
$214.86
Catalogue number: ARP19
4-6 weeks
$322.29
Catalogue number: VIB14
2-3 weeks
---
Wulflund Pagan Shop
Wulflund - Pagan shop. Manufacturer of functional swords, historical knives, pewter and silver jewellery (Celtic torcs, viking, and Slavic jewellery replicas) and leather accessories for re-enactors (pouches, belts). Explore our wide offer of medieval helmets, viking drinking horns, medieval glass or  historical shoes.
Go back with us to the times when the pagan Gods ruled the world (They still rule!), when nature gave and took, and when man was in harmony with the world.  Despite the passing of time, the old ways have never disappeared from our hearts, join us, it is time to rediscover the path! Visit our workshops and check our our references (Film Productions - Vikings, Witcher, Warcraft, Walt Disney, merchandise - Wardruna, Enslaved, Myrkur, Battle of Nations teams).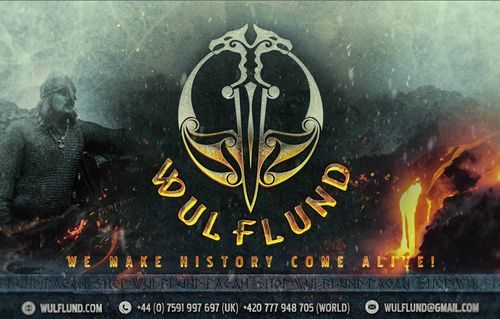 Download our Wulflund Catalogue.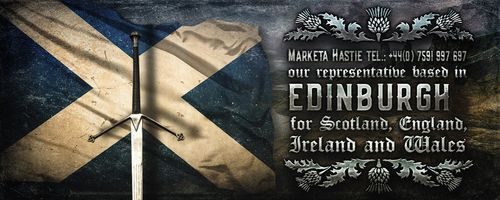 UK and Irish customers and wholesale, please contact our representative in Edinbourg.